Belgium is one of the smallest and most densely populated countries situated in northwestern Europe. Cultural diversity and the unique political settings have made the place a very interesting one. However, in this article, we will be seeing Belgium from a different standpoint – attitude towards disability and people with disability.
Definition of Disability
There's no standard definition of disability in Belgium. It is a federal country divided into several competence levels that are responsible for formulating policies, including disability policy. The communities, regions and municipalities have their own set of definitions of disability. So, there's no acceptable federal definition.
Lack of standard definition of disability is the reason due to which data regarding disability in Belgium are difficult to compare or interpret.
However, the center or the federal authority recognizes various situations or reasons that may result in disability. The situations include –
Physical and Sensorial Health Problems
Chronic and Degenerative Diseases
Genetic Diseases
Mental or Intellectual Limitations
Physical or Mental Limitations caused due to an accident at the workplace, occupational diseases etc.
Who Takes Care of Disability-Related Policies in Belgium?
Lack of standard definition of disability in Belgium does not mean that disability is not recognized in Belgium. Different areas of disability policies are taken care of by different competent authorities in Belgium working at different levels. Some of the areas of decision-making surely overlap and create some confusion. However, let us see what competence levels are responsible for what areas of disability and empowerment.
Federal Government
Social security of persons with disabilities is the forte of the federal government of Belgium. The following schemes come under their purview –
Invalidity Insurance Scheme
Scheme for Accident at Work
Occupational Diseases Scheme
Scheme for Disability Allowance
Among these four schemes, disability allowance is a social assistance scheme for which the disabled person does not need to contribute. Contribution for the other three is deducted from a person's salary just as insurance premiums.
Directorate General Disabled Person is responsible for evaluating a person's condition and extending grants and allowances on the behalf of the Federal Government.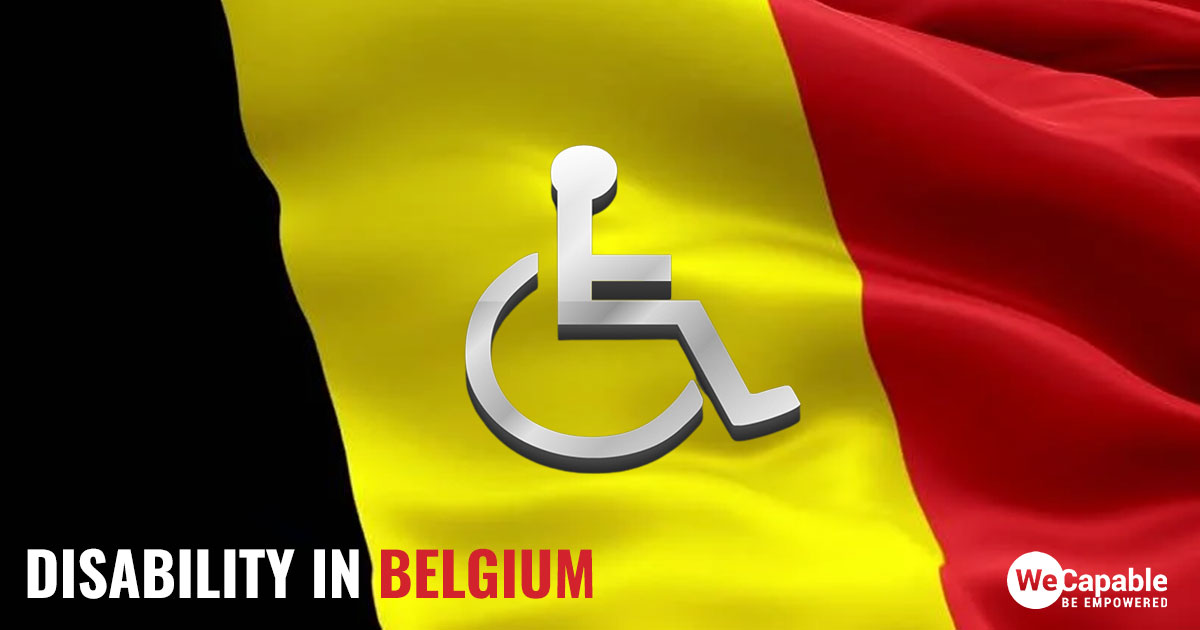 Communities
Belgium is divided into different communities – Flemish, French and German-speaking communities. Each community is responsible for personal matters such as education, professional training and the welfare of disabled people of their respective communities.
Regions
Each region is responsible for territorial matters such as accessible infrastructure development, urban development, culture, mobility and inclusive tourism development etc.
Different competence levels coordinate and collaborate with each other through Interministerial Conferences.
Benefits and Allowances for Disabled Persons in Belgium
Again, the legislation of Belgium is divided into three levels making it a little complex and confusing. Here, we are providing examples of some benefits and allowances granted by the Federal Government of Belgium.
Income Allowance for Disabled People – The federal government of Belgium grants financial assistance to disabled people who do not have sufficient income. This assistance is meant for the most deprived. A person will need certification of disability, age and income to apply for the benefit.
Income Replacement Allowance – This is meant for those whose disability limits their capability to work and generate meaningful income. There are several conditions linked to this scheme – nationality, age, place of residence, family income (income certificate of disabled person plus of those with whom she resides).
Family Benefits for Children with Disability – Families with one or more children with disabilities are entitled to income support allowance, provided they fulfill other conditions.
Other Social Benefits – Disabled persons in Belgium are allowed some reduction in taxes. They are entitled to parking cards as well as access to public housing.
According to the reports of Human Rights of the Council of Europe, Belgium lags behind the majority of the European countries in providing equality and social inclusion to Persons with disabilities. However, recently (March 2021) Belgium has initiated the process of constitutional amendments for incorporating the equal rights of persons with disabilities to fully participate in society. Let's hope for the best!
Citation
Use the citation below to add this article to your bibliography