France is, historically as well as culturally, one of the most important nations in the western world. The history of disability activism in France dates back to the era of the French Revolution. If you have attended history classes you might remember the tripartite motto of the French Revolution – Liberty, Equality and Fraternity. In fact, Liberty, Equality and Fraternity are still the national mottoes of France. Let us try to assess whether the tripartite motto of France stands true for Persons with Disabilities.
Definition of Disability in France
The term disability in France is defined by the Disability Law 2005. Article 114 of the law defines disability as –
"Any limitations in participating in society because of a substantial, permanent condition affecting a person's physical, sensory or mental functioning, which includes cognitive and psychiatric disorders and disabling chronic illnesses".
Disability Statistics of France
12 million French citizens are living with one or the other disability. Recent disability survey reports of France indicate that growing age is one of the major causes of disability in France. As people grow older they are more likely to acquire locomotor, visual or auditory disabilities. In fact, more than 50% of the disabled people reported in 2020 were over 45 years of age. French men are more likely to be affected by mental illnesses as compared to women.
Only 36% of French citizens with disabilities were gainfully employed, according to a 2018 survey. About 1 in 5 persons with disabilities reported that professional integration had been very tough for them due to their disability. Further, 3 quarters of the French population have been reported to say that it is difficult for any company to hire persons with disabilities. However, the majority of the employed persons with disabilities said that their needs for workplace adjustments were met at least partially.
Laws and Legislation regarding Disability in France
1. French Disability Law 2005
The disability law in France came into force on 11 February 2005. The law is based on an equal opportunity, participation and citizenship for people with disabilities. The law states that individuals with disabilities are entitled to accommodation to secure equal access to all programs and services. The law thus guarantees access to fundamental rights for persons with disabilities belonging to all citizens as well as the ability to fully exercise the rights of citizenship.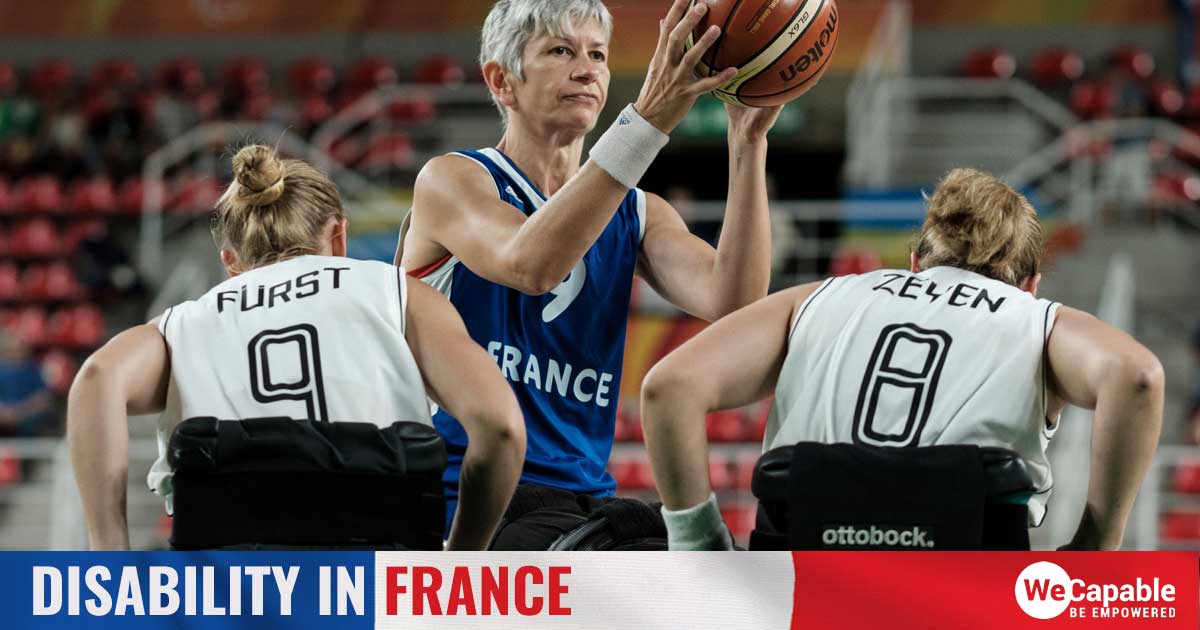 The law reaffirms the rights of equal opportunities of employment for persons with disabilities.
The law requires public buildings and facilities to be accessible. It also requires other facilities like railways and public transports to be accessible.
2. Compulsory Declaration of Employment for Disabled Workers
The Professional Future Law 2018 amended the terms of the compulsory declaration of employment for disabled workers to make it more effective. Any employer, whether private or public, employing 20 employees is obligated by the law to hire 6% disabled employees whether on a full-time or on a part-time basis. In multi-establishment companies, the rule of 6% applies on an overall company basis rather than an establishment basis. Failing to hire employees with disabilities the organization needs to pay an annual contribution to the development fund for the integration of the disabled for each of persons with disabilities it should have employed.
For ensuring the principle of equal treatment at the workplace, employers need to provide reasonable accommodation to employees with disabilities as per their requirements. Employer's refusal to provide reasonable accommodation is treated as a discriminatory practice that is prohibited by the law.
Social Status of Persons with Disabilities in France
Disability is not a taboo or something to be ashamed of in France. Normally, people are ready to help a person with a disability if they need it. Social awareness about physical and mental disability is quite satisfactory in the country. However, the goal of creating a just and equal society for persons with disabilities is yet to be achieved. It is worth noting that the five-year plan launched in 2018 focuses on disability-related issues.
Being a participant in the Paralympics since the inaugural edition, France is a country that provides good sports opportunities for persons with disabilities. Some annual and biannual functions are held in the country to showcase art and craft made by persons with disabilities and to provide a platform for performing arts.
Citation
Use the citation below to add this article to your bibliography