Sports are linked with physical fitness. And, physical disability, in general, is something that is seen as the polar opposite of physical fitness. Fortunately, a long list of persons with disabilities has proved the notion wrong by transforming themselves into athletes. Here we are presenting a list of top 10 athletes among the hundreds and thousands of those who have belittled all physical challenges with their tough mental attitude.
1. Esther Vergeer
Upon her retirement from sports in 2013 Esther Vergeer was said to be THE most dominant player in professional sports. Esther was a wheelchair tennis player who also happened to be a wheelchair basketball player at the beginning of her career. She has some amazing records in her name which would be very tough, if not impossible, for other athletes to break. Over her entire sporting career, she won 695 singles matches and lost only 25. Moreover, she won 441 double matches and lost only 35. For almost 10 years straight she was undefeated. Esther Vergeer's body might be disabled due to Vascular Myelopathy since her childhood but her spirit remained untouched by the disability.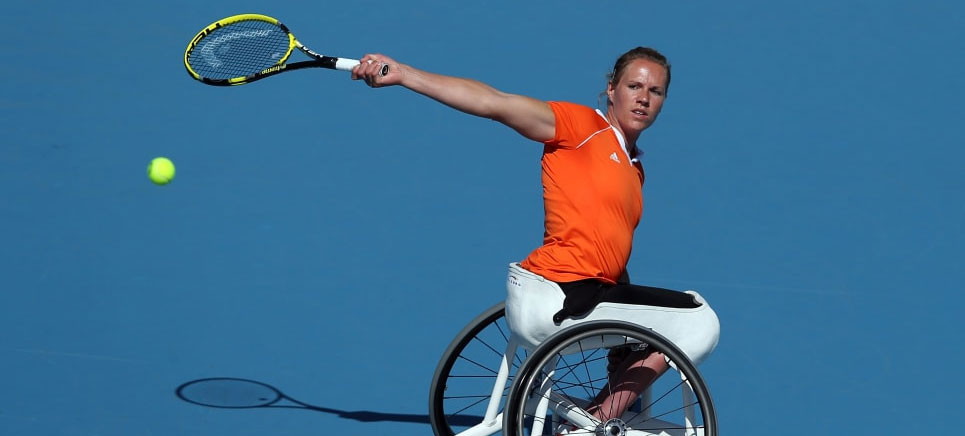 2. Trischa Zorn
She is the most decorated Paralympic athlete ever. Trischa, Paralympic Swimmer from America, has won 55 medals including 41 gold in Paralympic games. In addition to being the most successful Paralympian ever Trischa holds many world records in her disability category. She was born with a rare condition called Aniridia that is characterized by abnormal development of the iris. She was legally blind since birth due to her rare condition. She was included in the Paralympic hall of fame in 2012. And, disabled swimmers in the USA are given an award in her name – Trischa L Zorn Award.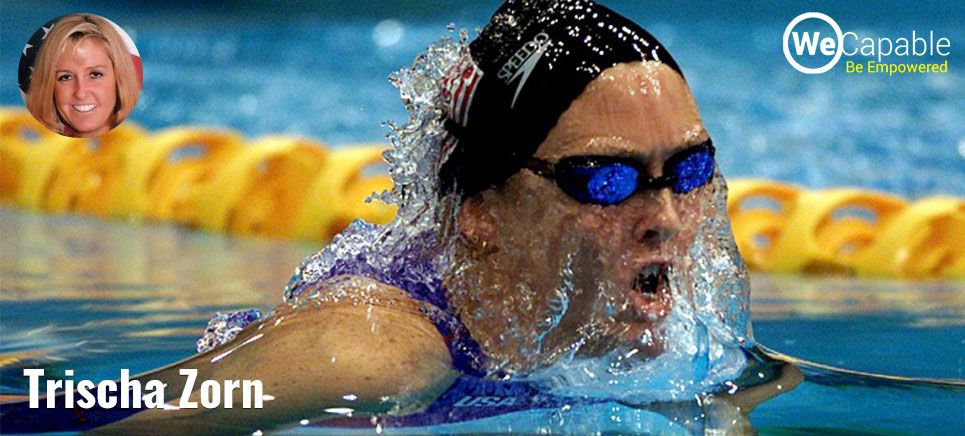 3. James Anthony Abbott
He is more popularly known as Jim Abbott. Jim was an American baseball pitcher who was born without right hand. It is important to note that Jim was part of a baseball team with all able-bodied players competing against a team of the able-bodied player. He did not use any prosthetic hand but played his role very well in the team. In addition to his other awards and achievements, Jim Abbott bagged a gold medal in a demonstration event at the 1988 Summer Olympics.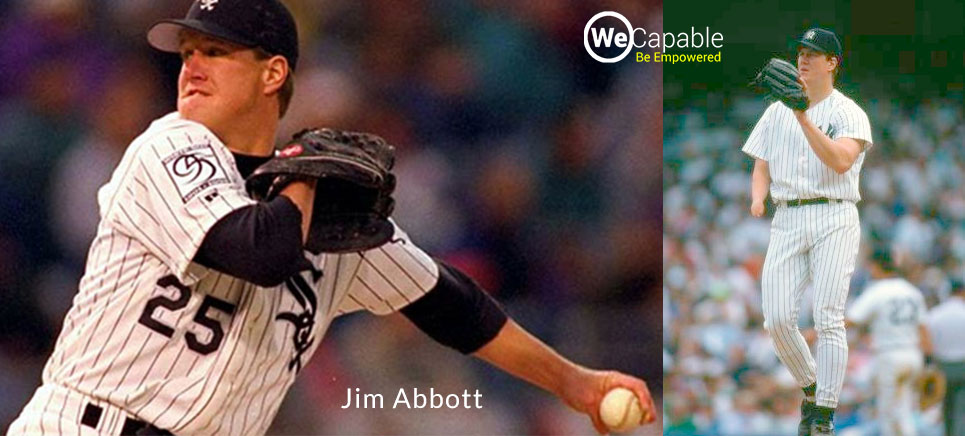 4. Jessica Tatiana Long
This American Paralympic Swimmer had to be amputated when she was 18-months old. She was born with fibular hemimelia which made amputation of her legs compulsory. She has been involved in several sports including gymnastic, ice-skating, biking, rock climbing, etc. At the age of 29, she can boast of 29 Paralympic medals including 16 golds. She holds dozens of world records in her name. She made her first world record in the 2004 Paralympic Games when she was just 12.
5. Baxter Humby
Baxter is a Canadian kick-boxer who is fondly called 'the one-armed bandit'. His right hand had to be amputated at birth when it got badly entangled with the umbilical cord. He is IMTC World Super Welterweight Champion. He took up running at 11 and martial arts at 17. He was a member of the Canadian Paralympic National track team in 1992 and 1994. He is the only kickboxer to win a world title with only one hand.
6. Tatyana McFadden
Russian-born American athlete Tatyana McFadden has won more than 20 medals in Paralympic games. She was born with a congenital disease called spina bifida that caused her to be paralyzed waist down. Growing up in an orphanage she walked on her hands for the first six years of her life. Her adopted parents encouraged her for sports to make her muscles strong. Tatyana excelled in various sports including swimming, gymnastics, wheelchair basketball, sled hockey, and, track and field. She started participating and winning medals, including gold, in the Paralympics since she was 8-years old (2004 Athens Paralympic Games).
7. Oscar Pistorius
[Note: Oscar Pistorius has been convicted for culpable homicide. We have included him in the list solely for his achievements as an athlete with a disability]
This South African athlete had to be amputated at knees when he was just 11-months old. He uses J-shaped carbon prosthetics called "Flex-Foot Cheetah". He was fondly called blade runner due to his fast running speed on his prosthetics. He was a champion among persons with disabilities. Oscar won 8 medals, including 6 gold medals, in three consecutive Paralympic Games from 2004 to 2012. Not only this, he broke the glass ceiling and started competing against athletes with no disabilities. Oscar is among the few athletes who have participated both in Olympics and Paralympics. He is the first amputee who won an able-bodied world track medal. He proved that his disability was much weaker than his courage.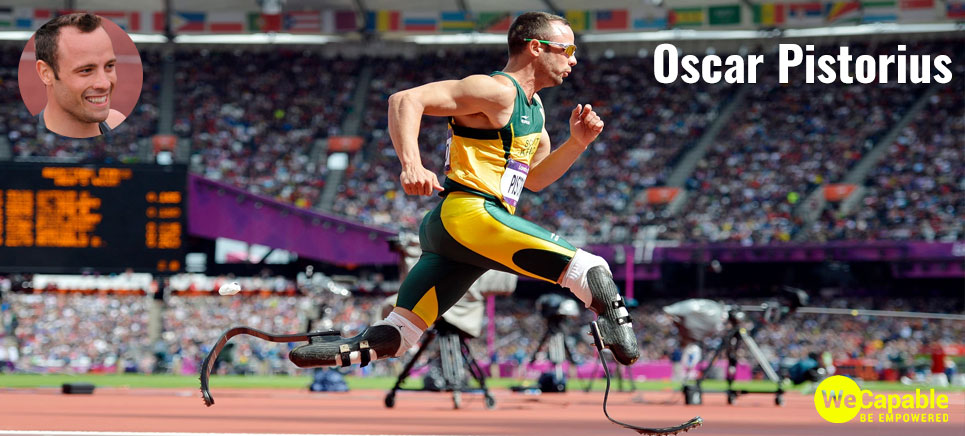 8. Michael Edgson
Retired swimming champion from Canada, Michael Edgson, is considered one of the most successful Paralympians with his 18 gold medals. Though Michael Edgson is blind he participated both in disabled and non-disabled international swimming events. Michael played sports like ice hockey, soccer, and, gymnastics as well. But, he felt these sports will confine him to the disabled category so he chose to be a swimmer. In his 12-years long sporting career, Michael made 9 world records.
9. Amy Palmiero-Winters
Amy is a below-knee amputee who had to get amputated after a motorcycle accident when she was 22. She is an athlete with over eleven world records in various events including marathons, triathlon, and ultra-marathons. In 2009 she became the first amputee to win an ultramarathon by running 130.4 miles in the allotted time. It is worth noting that not all her world records are made against amputees; she has competed and made world records while running with able-bodied athletes.
10. Arunima Sinha
She is an Indian sportsperson and mountain climber. She was a national volleyball player and football player before being amputated after an accident. The amputation made her body disabled but could not break her spirit. Arunima started her mountain climbing career after her amputation. She has scaled Mt. Everest, Mt. Kilimanjaro, Mt. Elbrus, Mt. Kosciusko, Mt. Aconcagua, Carstensz Pyramid, and, Mount Vinson. These are the highest peak of the seven continents of the world.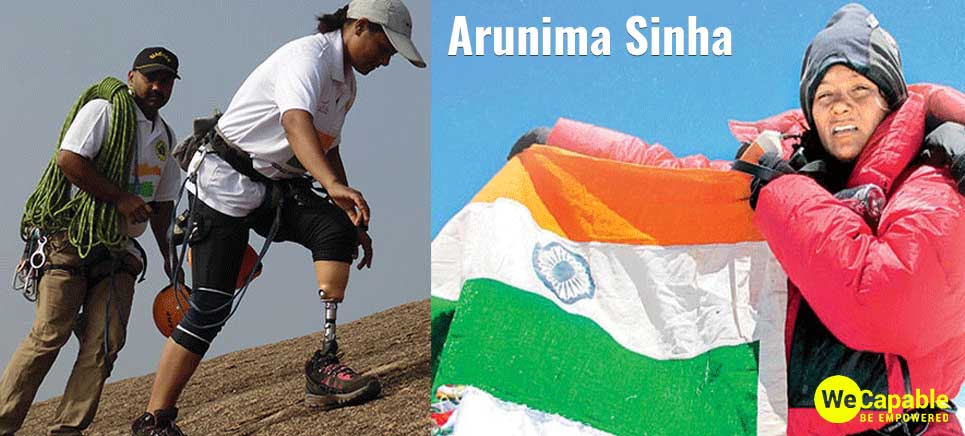 Top Physically Disabled Athletes and Sportsperson
Top Athletes with Physical Disability

| Athlete Name | Physical Disability | Main Sport |
| --- | --- | --- |
| Esther Vergeer (the Netherlands) | Wheelchair user due to Vascular Myelopathy | Tennis |
| Trischa Zorn (USA) | Blindness due to Aniridia | Swimming |
| James Anthony Abbott | Born without right hand | Baseball |
| Jessica Tatiana Long (USA) | Legs amputated | Swimming |
| Baxter Humby (Canada) | Right hand amputated at birth | Kick-Boxing |
| Tatyana McFadden (USA) | Spina Bifida | Wheelchair Racing |
| Oscar Pistorius (South Africa) | Both legs amputated below knee | Running |
| Michael Edgson (Canada) | Blindness | Swimming |
| Amy Palmiero-Winters (USA) | Leg amputated below knee | Marathan |
| Arunima Sinha (India) | Left leg amputated below knee | Mountaineering |
Citation
Use the citation below to add this article to your bibliography