In this article, we are providing a list of Paralympic Mascots along with the stories related to these characters. This is going to be a fun read and we expect you to share this with your friends and family.
If you follow any major sporting events you must have come across mascots and probably loved them too. These imaginary characters build to pump up the crowd play important role in making sporting events memorable. These cute animated characters attract adults and children alike. And it is therefore they are also used to help the sporting events financially through merchandising and licensing deals. It is interesting to note that mascots are believed to bring good luck to the event or team they are associated with. A mascot almost always has a story and a list of qualities (sometimes special powers) associated with them. So, without any further ado let's begin our list.
Tokyo Paralympic Games 2020 (Summer)
The Mascot: Someity
Someity is a mascot with pink checkered patterns. The colour pink is inspired by cherry blossom. Even the name comes from 'someiyoshino' which is a type of cherry blossom. The checkered pattern comes from the Tokyo Paralympics' official logo. Someity sounds similar to 'so mighty'.
Character and Background Story: Someity lives in the 'digital world'. It can transport itself from the digital world to the real world in an instant through the internet. Someity has a very strong bond of friendship and respect with Miraitowa, the blue checkered mascot of Tokyo Olympic. The character Someity is usually calm but becomes very powerful when needed. It can fly using its cape. And, it can exchange telepathic messages using its antennae shaped as cherry blossom. Someity has some superpowers that enable it to talk to stones and the winds. It can also move objects by simply looking at them.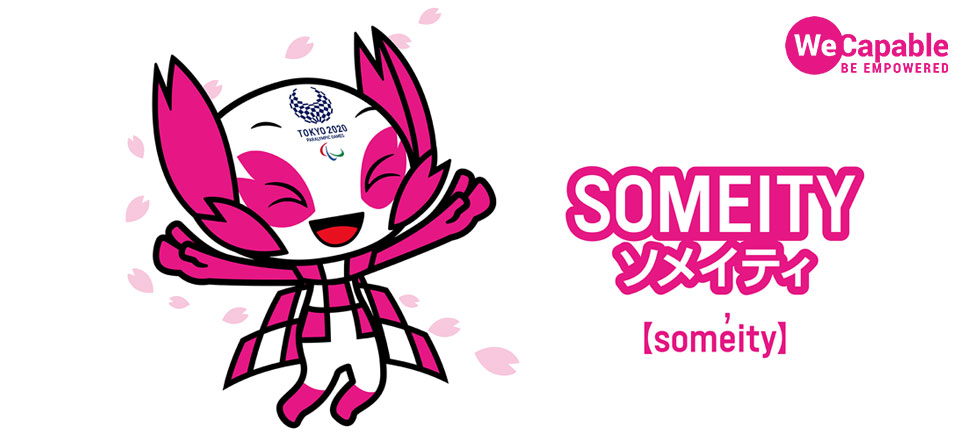 PyeongChang Paralympic Games 2018 (Winter)
The Mascot: Bandabi
Bandabi, the 2018 winter Paralympic mascot, is an Asiatic black bear. Banda, in Korean, means 'half-moon' or half-moon beast' and bi means to celebrate the competition. The mascot is related to 'Gomdoori' the mascot of the 1988 Summer Paralympic.
Character and Background Story: The character Bandabi is a warm-hearted friend. It has strong will and courage. It always stands for equality and harmony. The mascot was designed to support the enthusiasm of Paralympians so that they can overcome their limitations.
Rio Paralympic Games 2016 (Summer)
The Mascot: Tom
Tom is a mascot based on the plant life of Brazil. The name was borrowed from a Brazilian musician Tom Jobim. Though the leaves on the head of the mascot are originally green, they are golden, silver and bronze for the winners of those medals respectively.
Character and Background Story: Tom's head is full of leaves (instead of hairs). Interestingly, any object can be pulled out magically from the leafy head of Tom. The mascot has a mission for which it is dedicated wholeheartedly. It wants to motivate everybody to use creativity and be determined to reach further in life while not missing on the fun. The fictional background story tells that Tom was born along with Vinicius (Olympic mascot of 2016) from the 'joy of Brazilians' when Rio de Janeiro was selected for hosting the 2016 Olympic and Paralympic games. The green leaves on Tom's head change colour and match the colour of the medal won by a Paralympian.
Sochi Paralympic Games 2014 (Winter)
The Mascot: Ray of Light and Snowflake
Character and Background Story: 'Ray of Light' is an alien who comes from a perpetually hot planet. He somehow landed on earth. The alien has amber skin, flame-like hair, and bright and large eyes. He was overwhelmed with his experiences on earth and found people on earth not too different from him. He started Nordic skiing and soon made friends. But, he felt a little lonely because he was the only alien on the earth. One fine night he saw a shooting star falling to the earth. When he went close he found the shooting star to be a girl with snow-white skin. This girl coming from the perpetually cold planet was called Snowflake. Ray of Light and Snowflake became inseparable friends. Together they invented the sports like ice sledge hockey and wheelchair curling. Both of them realized that through sports they are much like humans on earth and so they decided to live here forever.
London Paralympic Games 2012 (Summer)
The Mascot: Mandeville
The mascot is named after Stoke Mandeville Hospital, the birthplace of Stoke Mandeville Games which was the predecessor of the Paralympic games.
Character and Background Story: The fictional birth story of Mandeville tells that Mandeville along with the other half of his mascot team Wenlock (Olympic mascot) was formed from the last girder of the Olympic stadium. Their skin is made of highly polished steel that reflects the personalities and appearance of the people they meet. Both the mascots have one eye that actually is a camera. The yellow light on their heads comes from the London taxi. Mandeville has three spikes on its head representing Paralympic agitos. It is very friendly in nature and thus represents friendship.
Vancouver Paralympic Games 2010 (Winter)
The Mascot: Sumi. The name is based on the word 'Sumesh' which means a guardian spirit in Salish.
Character and Background Story: Sumi is a guardian spirit and it is a hybrid between a whale, a thunderbird, and a bear. Sumi wears a hat shaped like a killer whale; it has wings of a thunderbird and the legs of an American black bear. It is representative of diversity. Whistler is the hometown of Sumi who loves to fly whenever he is not busy in sporting events. He is brave and independent. This fern green mascot loves the spring season the most. When feeling hungry he likes to sip some hot chocolate. Sumi lives with a dream of sharing his first mountain home in British Colombia with the whole world. He is a passionate environmentalist. His favorite sport is alpine skiing in monoski.
Beijing Paralympic Games 2008 (Summer)
The Mascot: Fu Niu Lele.
The name literally means 'lucky happy ox'. It represents the harmonious co-existence of humans and nature.
Character and Background Story: Fu Niu Lele is a multi-colured cow. It is a very gentle and friendly creature. Its colours come from the Chinese New Year drawings, toys, and gifts. It brings good luck wherever it goes.
Torino Paralympic Games 2006 (Winter)
The Mascot: Aster. It is a humanized snowflake.
Character and Background Story: Aster is a stylized snowflake with a big smile. It represents the ideals of the Paralympics – determination, passion, and courage. It also represents uniqueness. As each snowflake is unique so are the athletes participating in the Paralympics. Aster is normally just a snowflake face but sometimes it may wear a sports uniform. Its uniform is of colour green.
Athens Paralympic Games 2004 (Summer)
The Mascot: Proteas. It is named after the mythological sea god of Hellenic culture – Proteus.
Character and Background Story: Proteas is a colourfully striped seahorse. It represents strength, pursuit, inspiration, and celebration. It is versatile, flexible, and adaptable.
Salt Lake City Paralympics 2002 (Winter)
The Mascot: Otto
Character and Background Story: Otto is an otter who is known for his agility and vitality. Native American tribes once considered otters to be one of the most powerful animals. They reached almost extinction in the early 20th century but were successfully reintroduced in the wild in 1990. So, Otto, the otter comes with a message that even the largest setbacks in life can be overcome. Otto is always seen smiling and ready with his gloves to fight any odds. He is a fast swimmer and can bless everyone with fortunes. He is friendly and loves cooking when not playing. Of course, his favourite food is fish. He is very conscious about the environment and can humiliate anybody who tries to pollute the environment. Otto is just a little pup and hence lives with his parents. He loves to befriend children. Chris Waddell, an American Paralympian is lucky enough to be Otto's best friend.
Sydney Paralympic Games 2000 (Summer)
The Mascot: Lizzie
Character and Background Story: Lizzie is a frill-necked lizard of ochre colour. Her green and golden frill look similar to the combined islands of Australia and Tasmania. Lizzie is best known for her will to survive in the harshest condition as well as for her tenacity. She represents power and pride. Her strength, determination, and attitude are similar to the Paralympians.
Nagano Paralympic Games 1998 (Winter)
The Mascot: Parabbit
Character and Background Story: Parabbit is a cute white rabbit with one red and another green ear. The Parabbit wears a blue romper dress with white geometrical figures printed on it. She was inspired by the logo of Nagano Winter Paralympics.
Atlanta Paralympic Games 1996 (Summer)
The Mascot: Blaze the Phoenix
Character and Background Story: Blaze is a Phoenix, the mythical bird that rises to a new life from ashes. It represents renewal, perseverance, and determination. Phoenix is also the symbol of Atlanta, the city in which Paralympic games were held in 1996. Blaze is a tall brightly coloured phoenix with a very large wingspan.
Lillehammer Paralympic Games 1994 (Winter)
The Mascot: Sondre the Troll
Character and Background Story: Sondre the troll was a character based on Scandinavian folklore. Sondre is an amputee with a leg amputated at the knee. He loves sports especially alpine skiing.
Barcelona Paralympic Games 1992 (Summer)
The Mascot: Petra
Character and Background Story: Petra, the Paralympic mascot of the 1992 summer games, is an armless girl. Petra despite the absence of arms, is a happy girl who depicts positivity, independence, energy, and bravery. She is a sports enthusiast.
Tignes-Albertville Paralympic Games 1992 (Winter)
The Mascot: Alpy
Character and Background Story: Alpy is a form of Grande Motte, a French Mountain. The character is a humanized mountain who loves athletics. Alpy loves games like monoskiing.
Seoul Paralympic Games 1998 (Summer)
The Mascot: Gomdoori
Character and Background Story: Gomdoori is the Korean word for 'teddy bear'. Gomdoori, the mascot, is a pair of teddy bears with their legs tied together. The duo symbolizes cooperation – any adversity can be overcome with the support of each other.
New York Paralympic Games 1984 (Summer)
The Mascot: Dan D. Lion
Character and Background Story: Dan D. Lion is a pink 2-D lion with a jogging suit as well as running shoes. The mascot signifies strength, courage, and sportsmanship.
Arnhem Paralympic Games 1980 (Summer)
The Mascot: Two Squirrels
Character and Background Story: Two Squirrels are the first Paralympic mascots. The two 'sporty' squirrels depict cooperation and sportsman spirit.
Citation
Use the citation below to add this article to your bibliography