Nilesh Panchal is the founder of Navjeevan Charitable Trust, an Ahmadabad based organization working for the education, training and rehabilitation of children with special needs. Nilesh, recently won the NCPEDP-Mphasis Universal Design Award 2022. WeCapable conducted an interview with Nilesh, an ambassador of the rights of persons with disabilities.
WeCapable: Hello Nilesh, congratulations for your award! To begin with, please tell us about yourself. Your family background, education etc.
I come from a lower middle class family. We belong to the Panchal Community (OBC), which is traditionally the community of people who work with steel and other metals in professions like mechanics or furniture makers. Traditionally, most of our community members own their small workshops and are not educated. However, I wanted to study hard and I had dream to take higher degree. The biggest hurdle was my father's poor financial condition. So I Studied till B.Com and then I studied for P.G.D. (M.R.) in hope to get a government job. My luck did not favor me and I couldn't find a job in government sector. After that I started an NGO for mentally disabled students without any financial support.
WeCapable: What prompted you to start Navjeevan Charitable Trust?
B. M. Institute of Mental Health, is a pioneering mental health institute located in Ahmadabad, India.  This institute offered India's very first special education course. As a young collegian, I had heard about this course. The course had good employment opportunities and I also wished for a govt. job. Fortunately I got admission in this course. I received great training, our lecturers encouraged us to not to search for jobs, but to start our own organization.
Because of their encouragement, I started the Navjeevan Charitable Trust. My main objective is to provide training, education & rehabilitation to mentally disabled students.
WeCapable: You have been running Navjeevan Charitable Trust for almost three decades. How has been this journey? What challenges did you face?
Around three decades back, there was very little awareness about intellectually challenged and Cerebral Palsy affected people. It was very difficult to work for them. For first six years, I was working from a small accommodation. At that time very few special schools were available in India. Even these schools did not give admission to children having complex difficulties.
I had decided to serve the children who were rejected by well established 'Special Schools'. The children who were dependent on others for simple skills like moving, self-care etc. Demand for admission to Navjeevan Charitable Trust increased, but we had limited place, so I thought of raising funds for purchasing a new place, but getting donations was difficult. Ironically, if you're the owner of a property, donors trust you more and give donation to such organization.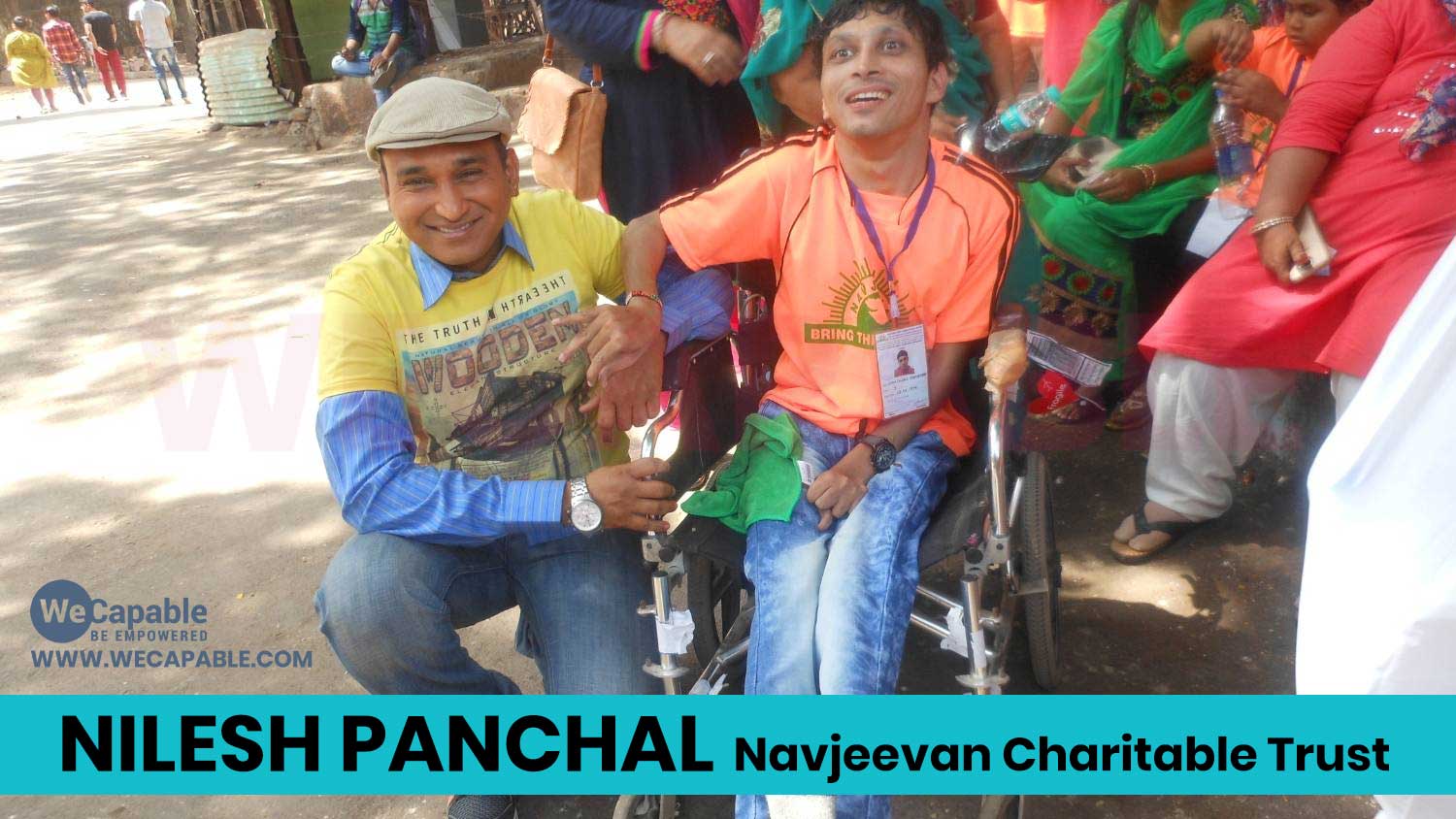 At last, funds were raised by taking personal loan. Taking a loan was a big risk, because one has to pay it back. I had to work for more than 12 hours a day to pay back monthly installments.
Popularity of my work continued to increase, and demand for even bigger place arose, but now because of popularity, fund raising was successful, new property is now Navjeevan's own property.
Working as special teacher, and helping special children and their families, was very satisfying work. I loved my work, I loved special children. I never set any limits, I was always available for any help they needed. It was my good fortune to have mentors and assistants, who were of similar thinking and hard working. Hard work, dedication and truthfulness was my strength, along with the ability of doing something new and innovative.
While developing my organization Navjeevan, I also helped in the development of five other organizations! Helping others increased my experience and skills too.
It was not a free, smooth ride anyway, I had to face many hurdles and obstacles. The more difficulties I faced, my experience and skills improved even further.
WeCapable: Would you like to share with us some success stories from Navjeevan Charitable Trust?
Programs for Intellectually Disabled Students (IDS) at National & International Level
Organized international trip with IDS and Parents at Dubai in September 2018
Organized international Dance trip with IDS at Malaysia in August 2018 in International NGO & CSR Summit
Organized international trip with IDS at Hong Kong in July 2019
Organized international trip with IDS & Parents at Singapore in September 2019
Air Trip – Mumbai – 100 IDS – Registered in the Limca Book
Tracking Camp – Manali – 29 IDS – Registered in Limca Book
Zumba Dance – Ahmadabad – 200 IDS – Registered in World Record India
Heighten Crutch – Ahmadabad – 51 feet – Registered in Guinness Book
Hanuman Chalisa Dance – Gujarat – 15 IDS – 50shows – Registered in World Record India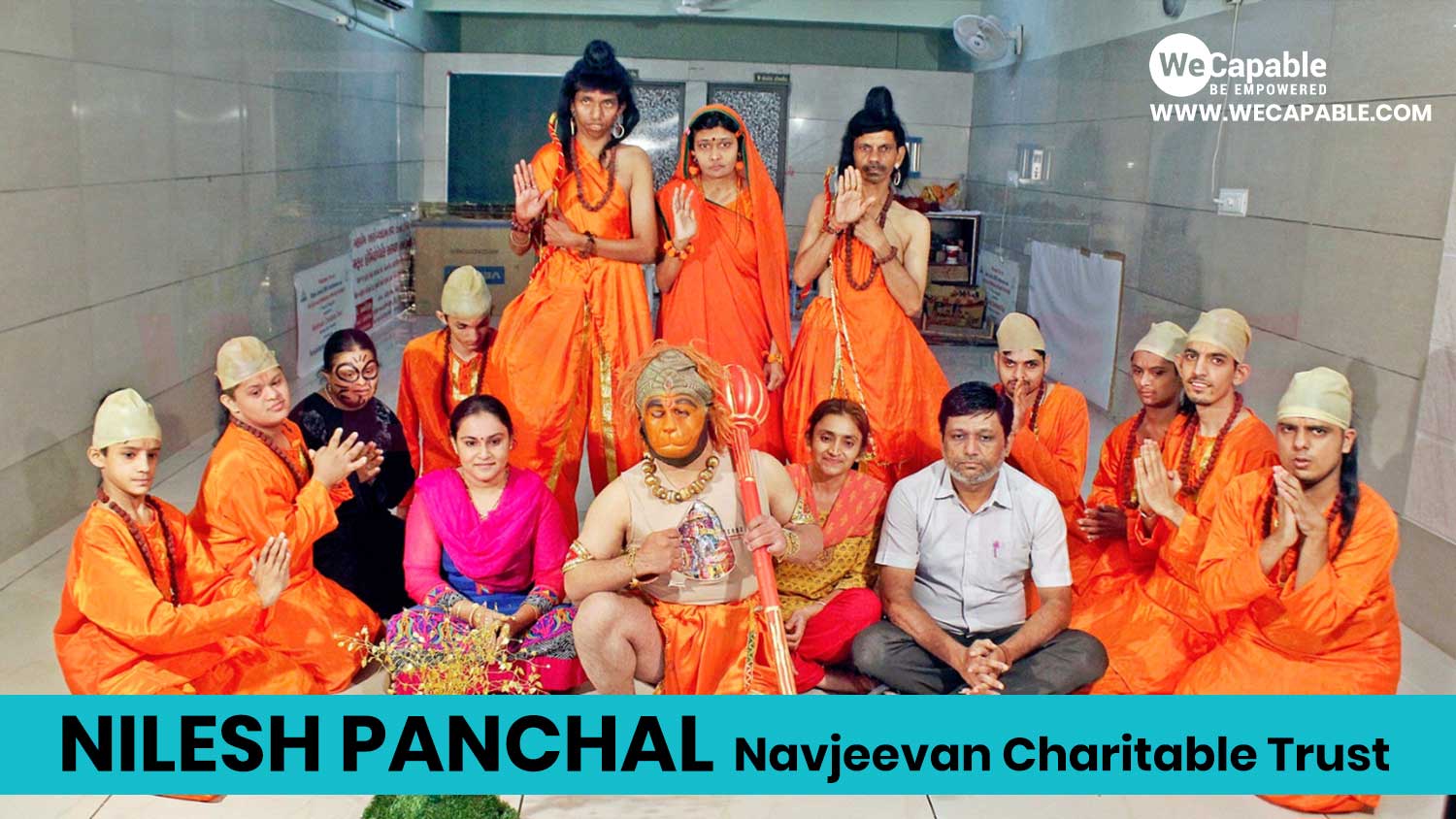 Longest Training – Ahmadabad – 1 IDS – (27 years) Registered in India Record Book
International Tour – Dubai- 26 IDS – Registered in Asia Pacific Record Book
Participating online webinar more than 4200 – Registered in World Record India
WeCapable: What are you doing these days?
I am still working as a special teacher and organizer in Navjeevan Charitable Trust, Ahmadabad. I will keep on try to give something new and better to these students.
WeCapable: And future plans?
I am planning to expand our special school. At present, we have a small building. I am planning to get bigger campus, which can provide play ground and residential complex for the intellectually challenged.
Also I am planning difficult yatras for these children. For example, Maa Vaisnovdevi Yatra, Char Dham Yatra etc.
WeCapable: Would you like to give any message to the readers of WeCapable.com?
Love your work, Love differently-abled persons. Always have faith in hard work, be innovative. If you have all these qualities, success will be yours.
Citation
Use the citation below to add this article to your bibliography