Soundarya Kumar Pradhan, a software engineer and blind chess player, was recently awarded with NCPEDP-Mphasis Universal Design Award 2022. He was awarded for creating a website that makes the chess board accessible for the blind. WeCapable Team did an interview with Soundarya to know more about his life and achievements.
WeCapable: Soundarya, first of all, congratulations on being one of the winners of NCPEDP-Mphasis Universal Design Award 2022. To begin with, please tell us about your early life and disability.
Soundarya: Hello. Thank you so much for interviewing me. I am so glad to get this award. I am the second child of my parents: Father (Rabi Ranjan Pradhan) and Mother (Jayantee Pradhan). My elder brother (Prachurya) is also visually challenged. He is incredibly talented. He has completed IPCC, the second stage of chartered accountancy. These days he is doing a Ph.D. IN Commerce after he qualified for NET JRF, and he is also doing a job in Odisha Mining Corporation. We both were born with an eye condition called Leber Congenital Amaurosis (LCA) which renders a child blind from birth. I have very little bit of light perception.
In a way I am blessed to be the second blind child in my family because some of the struggles that I went through as a blind child were already experienced by my brother. This not only created a good framework for me, but also for my parents who already had the experience in handling some of the challenges that came my way due to blindness.
We both studied at a school for the blind, and then came to a mainstream school when I was in the 5th standard. I think that was the turning point in my life. It allowed me to be more free about setting expectations.
WeCapable: You've been awarded for making a computer chess board screen readable. Could you please tell us how you did it and how blind chess players can use this facility?
Soundarya: After matriculation, I opted for science for class 11 and 12. This is pretty rare, to say the least, for a blind person. I had complete support from my family for my decision. After completing class 12, I appeared for JEE Mains. I am very fortunate to crack that exam. Consequently, I studied computer science and engineering in the National Institute of Technology, Jamshedpur.
As a chess player, I use software like Fritz, Chessbase and winboard for preparation. As a blind person, however, I am not able to access the position directly from the chess board.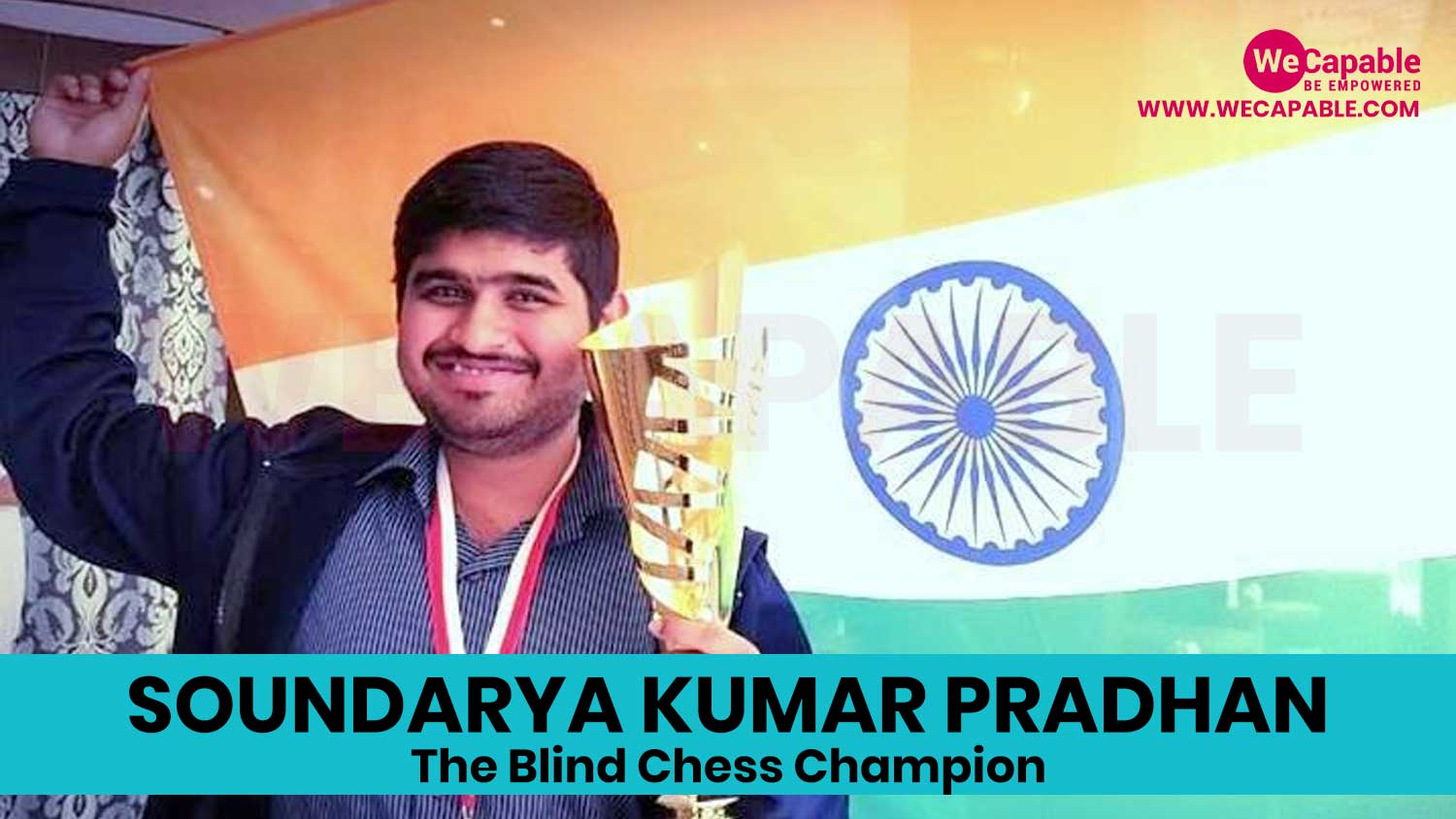 When I had just finished my first year, It struck me that I could use my programming knowledge to partially eliminate the problem. Realising that the chess positions are stored internally by the chess software as a computerized string, I wrote a program that would convert the string into human friendly text that a screen reading software like JAWS or NVDA could easily announce. The first version of it was a terminal application. Some of my friends who are into computers and I used this application. Next year, when I learnt some web development, I made a website (accessiblechess.herokuapp.com) so that it could be used by anyone on the Internet.
I designed this website to makes it very easy for a visually challenged person to navigate with the help of headings. The website puts the most important control automatically in focus. Frequently used options have shortcut keys.
All we need to do is copy the position from a chess software and paste it in the edit box. As we press enter, the website gives us the result in a format that screen readers can easily read. And that is pretty much the sequence in which chess teachers announce a position to the student.
WeCapable: You've won a number of national and international blind chess championships. When and why did you select chess as your passion?
Soundarya: I recently won Gold medal in board 2 in World Team Chess Championship for the Blind in Ohrid, Macedonia. Along with that I have also won Silver in World Junior Chess Championship for the Blind in Poland, Silver in Asian Para Games in Indonesia, and Bronze in Asia Pacific Chess Championship for the Blind in Manipal, India.
I have been playing professional chess since the age of ten. I am from a family of chess players. My uncle Kesharanjan Pradhan introduced my family to chess. In fact, he is the first coach of me and my brother. My brother is also Asian Para Games silver medalist. Honorable Prime Minister of India Shri Narendra Modi ji facilitated us on winning these medals.
Probably one of the reasons why my brother and I stuck to chess is blindness. We were not so much distracted by many outdoor sports as the other kids in my family.
WeCapable: Many of our blind readers want to learn blind chess. What would be your advice to them on how to begin?
Soundarya: Chess is an accessible game. It is the only professional game I know of where a blind person can play with a sighted player with the exact same rules. Blind chess only means the method that blind players use for playing (the braille chess board, and the announcement of the move). The rules are exactly the same.
I suggest the blind readers of WeCapable to explore the website lichess.org. It has a mode tailored for screen readers, the button for which is right on the top of the page.
WeCapable: What are you doing these days?
Soundarya: I am a software engineer at HSBC. I also play chess tournaments from time to time. I am focusing on developing my chess skills at the moment.
WeCapable: And, what are your future plans?
Soundarya: I plan to use my skills for improving the lives of disabled people. I don't know what exactly I am going to do next, but again, I did not know that I would create a program for chess even 5 days before I created it.
I have ideas floating in my mind. Unfortunately, most of them are not feasible. Sometimes, I get ideas that I manage to implement practically with the help of my skills. I am very hopeful that I will be lucky sometimes in the future too.
WeCapable: WeCapable.com is among the best disability information resources in the world. What message would you like to give to our readers?
Soundarya: People say that when God takes one of the senses, He enhances the rest. I beg to differ. I think if god at all has an impact in this, then he gives us the opportunity to shine where we can best shine. Let us respect that opportunity instead of fretting over what we lack.
Citation
Use the citation below to add this article to your bibliography